Get to Know
Your Veterinary Team
Veterinarian
Dr. Erin Robinson

Veterinarian and Owner
Dr. Erin Robinson had a passion for caring for animals and people for as long as she can remember, so becoming a veterinarian was the perfect career choice. Originally from Wyoming, she earned her bachelor's degree from the University of Wyoming in Molecular Biology and Animal & Veterinary Sciences before earning her DVM from Washington State University in 2006.
Following completion of an internship at Washington State University in 2007 Dr. Robinson relocated to Arizona to enjoy better weather and has been practicing here since, first in Tucson and then in the Phoenix East Valley since 2015.
Dr. Robinson's areas of interest include surgery, urgent care, dentistry, and general medicine with an emphasis on feline care. She is a member of the American Veterinary Medical Association, the Arizona Veterinary Medical Association, and the American Association of Feline Practitioners. Dr. Robinson has completed additional training to be become a Fear Free Certified Veterinary Professional and Cat Friendly Veterinarian.
Erin resides in Mesa with her husband Larry. They share their home with two chihuahua mixes (Bolt and Chaco) two Siamese mix cats (Audrey and Molly), and three rats (Penne, Fusilli, and Rosemary). In her free time she enjoys travel, SCUBA diving, movies and spending time with family.
Staff
Bre Henry

Certified Veterinary Technician
Bre began her life in California, and moved to Mesa, Arizona with her family when she was an infant. As a young child she grew up with all types of pets. Even though she had her own to love and care for, she always wanted to help orphaned pets and bring them home. Bre attended Mesa Community College and obtained her degree in Applied Sciences of Veterinary Technology in 2016. Shortly after finishing college, she took the National and State boards to become a Certified Veterinary Technician. Since becoming a CVT she has spent time working in both General Practice and Emergency. In her spare time Bre enjoys concerts, baking, camping, paddle boarding and spending time with friends/family. At home she has two dogs, Harlow, a Jack Russell Terrier and Calypso a Schnauzer Mix who both love being outdoors with their mom.
Chandell Hunt

Certified Veterinary Technician / Team Lead
Chandell grew up in a remote part of Michigan near a nature preserve which fueled her love for all animals. She attended and graduated from Pima Medical Institute for the Certified Veterinary Technician program in 2017. After passing her National and State exams she worked in corporate vet hospitals for many years before finding her way to Curem Veterinary Care. She has been in the field a total of 10 years now and loves what she does! Chandell lives in San Tan Valley with her husband, daughter, and their four-legged crew of 11 cats, 3 dogs and 3 beta fish.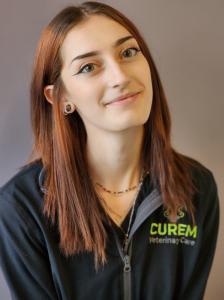 Brianna Hunt

Receptionist
Brianna is an Arizona native who grew up surrounded by family pets such as cats, dogs, rabbits, birds, and fish. Utilizing her animal knowledge and tremendous love for cats she began working in the field in 2021. Brianna currently lives in San Tan Valley with her two kitties Artemis, a rambunctious tuxedo, and Angel, a sweet little tortie. In her free time, she likes to explore her passion for art, play video games and research/work on cars. Brianna is eager to expand her medical knowledge in the veterinary field and cross-train as a VA. Brianna is also considering going to college in the fall for computer programming/digital arts.
Kelsey Oakman

Certified Veterinary Technician
Kelsey grew up in northern Arizona before moving to the valley to finish high school. After graduating, she attended Pima Medical Institute to become a veterinary assistant, continuing and securing her certification as a veterinary technician in 2015. In her free time, Kelsey enjoys reading, spending time with her family, and trying new types of food! A lifelong rescuer, Kelsey's herd of animals consists of 2 chihuahuas, Dylan and Boost; Avery, an English springer spaniel; Hei-Hei, a clumsy standard poodle and, 2 desert tortoises, Shikaka and Wombat.
Kami Tsue-Keele

Veterinary Assistant
Kameleonalani (Kami) is from Palolo valley, Oahu. Kami spent half her life on the Hawaiian Islands Maui and Oahu with her family and family pets on both islands. Some of her fondest memories are helping take care of the family pets and learning from her elders. She went to Pima Medical Institute and graduated from both the Vet assistant and Vet technician program. She has previous veterinary work experience working for corporate veterinary hospital for 3.5-4 years. In her free time Kami loves to spend time with her family and family pets, when not spending time with family Kami enjoys video games, art projects, and listening to Hawaiian style music that reminds her of home.
Join Our Team
Could this be you?